Hold arms of chair, raise both your legs, bend toes inward and outward each time holding for few secs. Repeat five times.
Keep head straight and body still, Close eves, relax the face and body. Open eyes to look at a fixed point in front of you now focus on brow centre or tip of nose, close eyes and relax eyes repeat three times.
Place thumb on right nostril and ring finger on left. Breath in from your right nostril and hold your breath, exhale through left. Now inhale through left and exhale through right Repeat 10-15 times. helps calm down.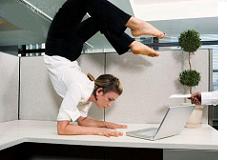 Here is a short list of small training programmes; if followed through in your home or even at a gym they will surely help you a lot.
Fitness components for: Beginner, Intermediate and Advanced (in descending order)

Cardio (walking, cycling, swimming)
2o minutes, 3 times a week
30 minutes, 3 times a week
45-60 minutes, 4 times a week
Resistance (Dumbbells, fitness bands, pushups, pull ups and other calisthenics)
1 set of 15 reps once a week
2 sets of 15 reps, twice weekly
2 sets of 20 reps, twice weekly
Flexibility (stretches, yoga)
5 minutes, holding each stretch for 5 counts, three times a week
10 minutes, holding each stretch for 10 counts, three times a week
10 minutes, holding each stretch for 30 counts, four times a week

Above information is given in good faith however for any diseased condition please consult physician or dietician Your questions and suggestions are welcome at: smartediets@gmail.com. For more information log on www.livingsmart.in

Back to Healthy Living




---